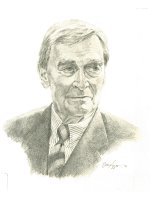 A. M. Cuddy
(1919 - 2006)
Inducted in 1999
Origin: Middlesex County
Nominated by: Ontario Agricultural College 1942
Specialty: Agri-business, Livestock - Poultry
---
A. M. (Mac) Cuddy, from Kerwood, bought a 100-acre turkey farm near Strathroy in 1950. Since then, through innovation with new technologies and exacting quality standards, he has expanded his enterprises into a fully integrated turkey and chicken business involving breeding, incubating, hatching, growing, dressing, further processing, distributing and marketing.
From the beginning, Mr. Cuddy added value to turkeys first by selling dressed birds to butchers and hotels, then improving quality of the birds by breeding and incubating his own eggs. A technological breakthrough of controlled lighting in turkey barns in the 1960's, catapulted Mac Cuddy ahead of the industry by allowing him to supply day old turkeys to growers every month of the year. Mac Cuddy expanded his turkey operation in 1971 into South Carolina, Missouri and Minnesota. He made major weekly shipments of hatching eggs to Europe. Cuddy enterprises now command 27% of the world market for hatching eggs and day-old poults.
In the mid 1970's, Mac pioneered further-processed turkey products and became the leading producer of processed and portion control products from turkey and chicken meats, supplying such outlets as McDonald's Restaurants of Canada and Loblaws (including their affiliate outlets). The ability to produce fully cooked products was added in 1993 and has operated at full capacity since that time. Biosecurity restricting access to all facilities results in Triple-A ratings for cleanliness from Agriculture and Agri-Food Canada.
Cuddy farms, factories, vehicles and employees exemplify the attention to quality, which are the hallmarks of the eminently successful enterprises of Mac Cuddy. A. M. Cuddy's relentless pursuit of excellence and quality is evident in all his business ventures including his standardbred horse enterprises as well as his contributions to research, scholarship and public health activities.