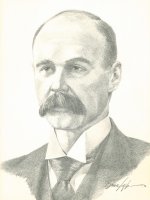 Abram C. Hallman
(1858 - 1918)
Inducted in 1986
Origin: Waterloo Region
Nominated by: Ontario Branch – Holstein Canada
Specialty: Livestock - Dairy, Livestock - Swine
---
A member of a prominent farm family in Waterloo County, "A. C." became a pioneer in the breeding and management of Holstein cattle in Canada. He and his father made the first importation into his district in 1883. A member of the Breed Association from its beginning, he served as a Director for 20 years and was its President several times. Always promoting Holstein cattle, he carried out many extension activities for the breed.
Abram Hallman was instrumental in having the Dominion Holstein-Friesian Herdbook established in 1891 and was auditor for the Association from 1907 until his untimely death in 1918. A noted judge of the breed, he was a frequent speaker at Farmers' Institutes on dairy cattle management. Through a company that he formed with two others, he imported quality stock to start farmers with Holstein herds.
He organized the Waterloo County Holstein Club and was its first President.
His second field of work was the improvement of Tamworth swine of which he became a recognized expert as a breeder, lecturer and showman.