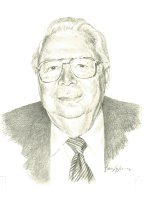 Alex F. Henry
(1927 - 2019)
Inducted in 2004
Origin: Kent County
Nominated by: The Fertilizer Institute of Ontario Foundation and Sylvite Sales
Specialty: Agri-business, Organizations, Technology
---
Alex F. Henry was raised on the family farm in Chatham Township in Kent County. After graduating from the Ontario Agricultural College in 1951 he devoted his career to the advancement of the agricultural industry through the application of science and technology to the fertilizer business. He applied his talent for selecting, motivating and managing people for maximum achievement in the field, enhancing the rapid expansion of the fertilizer industry. Alex was a leader and key player in the development of 20 Cyanamid Retail Bulk Blending Plants in Ontario. This introduction of products of higher nutrient concentration (urea, triple super-phosphate, M.A.P., D.A.P.) resulted in savings in freight, lowered costs and increased the efficient use of fertilizers. Concurrently it allowed fertilizers to be custom blended, based on soil sample analysis, for the crop to be grown. This resulted in favourable environmental impact and eliminated the backbreaking labour associated with bagged fertilizers.
Alex Henry, as Manager of Potash Sales for Sylvite of Canada, encouraged the company to install large storage domes close to the end user. This allowed potash to be mined all year, shipped in unit trains and self-unloading vessels, stored in bulk and blended when needed in the short spring season. The timely distribution of plant nutrients improved the potential for increased agricultural production. When Alex became President of Sylvite Sales Inc, he was able to provide fertilizers in an even greater timely and efficient manner. Thus he continued to be a major contributor to increasing the value of agricultural output in Ontario.
In 1972 Mr. Henry, as a member of a Canadian Trade Mission to China, signed the first contract for 63,000 metric tonnes of Canadian potash. Canadian potash exports to China have now risen to over one million tonnes annually. Alex Henry initiated a project of the Fertilizer Institute of Ontario Foundation to produce a well documented textbook on the relationship between the fertilizer industry and expanded crop production in Ontario. Alex, and others, provided a grant to launch the book and was named as chairman of a committee to oversee the production of "The Next Best Thing to Rain". This publication has become a magnificent source of information on the fertilizer industry and its extensive contribution to Ontario Agriculture. It has been placed in public libraries, high school libraries and is sold to the public.
Alex F. Henry holds Honourary Life Memberships granted by both The Fertilizer Institute of Ontario and the Canadian Fertilizer Institute. He and his spouse Yvonne are generous supporters of the Alumni Association of his Alma Mater, the Ontario Agricultural College, now the University of Guelph, where they assisted in the redevelopment of the unique and beautifully serene Conservatory Greenhouse and Heritage Gardens.