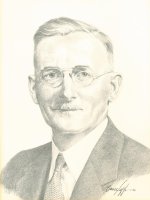 Alma J. Wagg
(1876 - 1960)
Inducted in 1986
Origin: Manitoulin Island
Nominated by: Manitoulin Soil and Crop Association
Specialty: Agri-business, Livestock - Dairy, Livestock - Swine
---
Born in Goodwood, Ontario, A. J. Wagg graduated from the Ontario Agricultural College, Guelph, in 1900 and for more than half a century gave strong leadership to Manitoulin Island.
He was Secretary of the Farmer's Institute for 20 years and held executive positions with the local Wool Growers, the Hospital Board, the Children's Aid Society, the Chamber of Commerce and the telephone company. He served on the school board and was Township Reeve for 10 years. He was also a President of the Ontario Creamerymen's Association.
Mr. Wagg established a creamery in Mindemoya, the products of which were of prize-winning quality. Extensive sales brought income to the Island. He was also instrumental in helping turkey producers find a market.
He founded a herd of purebred Ayrshires, imported purebred Yorkshire swine, started a feed business and fostered milk recording and a "TB" free area.
A.J. Wagg was a man who put community service ahead of personal achievement. He was an activist who left an indelible mark on Manitoulin Island.