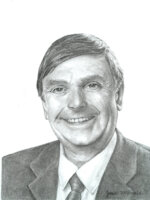 Brian Gilroy
Year of birth: 1956
Inducted in 2023
Origin: Grey County
Nominated by: Ontario Fruit and Vegetable Growers' Association
Specialty: Crops - Fruit
---
In 1987, Brian Gilroy bought a virtually abandoned orchard near Georgian Bay and transformed it into Nighthawk Orchards which focuses on growing quality apples for the fresh market. He soon became involved in a variety of organizations which have facilitated the growth and success of Ontario's apple industry and the edible horticulture sector nationwide. He joined the local Georgian Bay Fruit Growers Association, a membership he has maintained for over 30 years.
When the original Ontario Apple Marketing Commission was dissolved in 2001, the Ontario Apple Growers Steering Committee, with Brian as Chair, came together to plan a framework for a new industry organization. And so it was that the Ontario Apple Growers was formed in 2004 with Brian as one of its founding directors and then as chair from 2008 -14. During that tenure, he was faced with dealing with two significant crises – the 2009 tornado which struck the Georgian Bay apple growing region and the 2012 spring frosts which led to an 85% loss of Ontario's apple production that year. Brian's steady leadership helped to effectively communicate the needs of the growers to government and other stakeholders.
He next turned his sights to the fledgling Farm & Food Care Ontario (FFCO), becoming a director in 2013 and chair from 2016 to 2018. He vigorously championed its cause across the agriculture industry and now FFCO is well established and doing invaluable consumer advocacy work. Brian has done similar service as a 15-year director of the Royal Agricultural Winter Fair, advocating to maintain horticulture as a vibrant entity at this important showcase.
He has chaired the Fruit and Vegetable Growers of Canada Apple Working Group since 2014, successfully helping to solve trade barrier issues for Canadian apples into the European Union. He also played an essential role in helping to negotiate the first Memorandum of Understanding which spelled out the rules surrounding a Ministerial Exemption for bulk apple shipments from other provinces or American states into Ontario. This process helps protect apple growers against uncontrolled imports of ungraded fruit that would disrupt orderly marketing systems and prices.
Brian was two years into his presidency of the Canadian Horticulture Council when Covid-19 threatened to impede the entry into Canada of seasonal agricultural workers needed for the operation of Canada's fruit and vegetable farms. He helped to guide the policy decisions that were workable to both growers and government. These efforts earned him the 2022 Doug Connery Award for his extraordinary contributions to the edible horticulture sector.
Certainly, Brian Gilroy's many accomplishments have ensured his place in the Ontario Agricultural Hall of Fame.