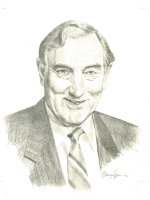 Brian Scott Ellsworth
(1933 - 2022)
Inducted in 2005
Origin: Niagara Region
Nominated by: Ontario Egg Producers
Specialty: Livestock - Poultry, Organizations, Research
---
Brian Ellsworth served as General Manager to the Ontario Egg & Fowl Producers' Marketing Board, the Ontario Egg Producers' Marketing Board and most recently the Ontario Egg Producers. During his 34-year tenure as General Manager of these organizations he successfully guided this industry through tumultuous times. His "beg forgiveness then ask permission" philosophy provided dynamic leadership for the industry and enabled him to demonstrate the lasting benefits of progressive agricultural policy development. His enterprising style and advocacy for change resulted in the successful implementation and development of the overall Canadian Egg Quota System.
Brian Ellsworth influenced every major milestone that has marked the evolution of the egg industry in Ontario and Canada. Mr. Ellsworth initiated processes to guide the producer directors to set policy and programs for the future. He created the "Get Cracking" advertising logo that reversed the decline of egg consumption and revived the industry. He managed the implementation of the Egg Quality Improvement Program to assure that the highest quality eggs were provided to consumers. He was an advocate for Ontario farmers with the Ontario Government and was instrumental in creating the first industry Research Chair at the University of Guelph. His tireless efforts led to the mandatory salmonella testing of all pullet and layer flocks, on-farm food safety programs, employment of technical specialists, and the Ontario Egg Producer's Marketing Board becoming the first marketing board to embrace major marketing initiatives. He established communication between and among other commodity boards. Brian Ellsworth was a member of the committee that produced a new Federal Provincial Agreement that will set the course of the Canadian egg industry for the future.
An innovator in agricultural marketing and public relations, Mr. Ellsworth raised the consciousness of the Ontario consumer of the value of eggs, health truths and nutritional benefits. This is a significant contribution to everyone in the poultry industry and to the public at large. Brian Ellsworth's influence extended beyond the egg industry. Early in his career he served as director on Boards serving the hog industry, the Ontario Federation of Agriculture, the Rural Learning Association and the Advanced Agricultural Leadership Program. He also has served as President of the Canadian Association of Nuffield Scholars, Ontario Institute of Agrologists and the International Egg Commission. He assisted in the creation of AGRICORP, an agency that continues to serve Ontario's agricultural interests, and recently served the livestock industry as Interim General Manager of the Ontario Farm Animal Council.
As a graduate of the Nova Scotia Agricultural College, the Ontario Agricultural College, and University of Western Ontario Executive Management Program, and a Canadian Nuffield Scholar, Mr. Ellsworth was well positioned for leadership in agriculture.