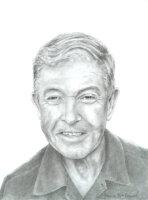 Carleton Mackinnon (Mack) Emiry
Year of birth: 1940
Inducted in 2023
Origin: Sudbury District
Nominated by: Manitoulin-North Shore Federation of Agriculture
Specialty: Crops - Soils
---
Mack Emiry owned and operated a dairy farm near Massey, Ontario with his wife Beth and brother George. In 2013, it was recognized as a Century Farm. From this base, he became very involved in the agriculture industry beyond the farm. He served as the secretary-treasurer for the West Sudbury Milk Producers' Association for over a decade and was a promoter of the amalgamation of the Manitoulin and West Sudbury milk producers to better negotiate prices with processors and truckers. Once the Ontario Milk Marketing Board was established provincially in 1966, the Manitoulin-Sudbury District was chosen to pilot a six-month trial of the new quota system.
As an original member of the Manitoulin-North Shore Federation of Agriculture and director for 24 years, Mack effectively represented Northern Ontario as a delegate to the Ontario Federation of Agriculture. Then in 1987, he embarked on an ambitious campaign to encourage Algoma producers to join the OFA to give themselves a collective voice as the Algoma Federation of Agriculture.
After the Walkerton water supply contamination in 2000, Mack was asked by then Minister of Agriculture, Helen Johns, to join the Nutrient Management Advisory Committee (2005-06) tasked with reviewing guidelines for farm practices in manure handling and risk reduction. This ultimately resulted in the implementation of Ontario's Nutrient Management Plan.
He also spent five years (2008-13) as a member of the Premier's Award for AgriFood Innovation Excellence Committee to assist in choosing winners from producers, processors and agrifood organizations. These were some of the innovations which lead to the ongoing competitiveness of the Ontario agricultural industry.
One of Mack's greatest passions is soil health and as chair of the Sudbury District Soil and Crop Improvement Association Land Stewardship Committee, he encouraged new cropping ideas, soil management and tillage practices. Ultimately, this helped lead to the development of the Ontario Environmental Farm Plan.
In 2018, Mack and Beth established the Emiry Family Prize in Soil Management, awarded yearly to the University of Guelph student with the highest grade in soil management.
For more than six decades, Mack Emiry has been a strong advocate for the continual improvement of Ontario agriculture and he is a worthy Inductee into the Ontario Agricultural Hall of Fame.