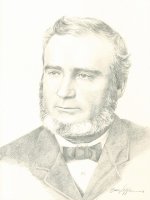 Charles Alfred Drury
(1844 - 1905)
Inducted in 1988
Origin: Simcoe County
Nominated by: Ontario Ministry of Agriculture and Food
Specialty: Crops - Fruit, Education, Politics
---
Farmer, entrepreneur and politician, Charles Drury was a progressive force in Ontario's agricultural development. He was a promoter of the practical application of science to agriculture. During his membership on the Council of the Agriculture and Arts Association of Ontario, Drury was instrumental in developing education programs and farm competitions encouraging excellence in production and management. As a director of the Ontario Fruit Growers' Association, he was active in the movement to expand its mandate in the areas of co-operative fruit growing and marketing, and in rural forestry programs.
Charles Drury represented East Simcoe in the Ontario Legislature. In 1888, the Ontario government acknowledged the leading role of agriculture in Ontario by establishing the Department of Agriculture. Drury was named the first Minister and held the position until 1890. He played a key role in co-ordinating the diverse agricultural interests of the time, laying the groundwork for the modern agricultural industry.
Active in local politics, Drury held the office of Reeve of Oro Township, Sheriff of Simcoe County and Justice of the Peace.