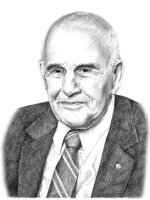 Charles Augustine Diemer
(1919 - 2013)
Inducted in 2012
Origin: Essex County
Nominated by: Gay Lea Foods Cooperative Ltd.
Specialty: Co-operatives, Livestock - Dairy, Organizations
---
Charles Diemer has dedicated his long and productive life to the science of agriculture and to the development of rural Ontario through the cooperative movement. He has been honoured with a host of awards for his outstanding achievements, including the Order of Canada for his contributions to enhancing the quality of life through cooperative and farm organizations, the Queen's Jubilee Medal, Canadian and Ontario Centennial Awards and the Lifetime Achievement Award from the Canadian Cooperative Association. Mr. Diemer's accomplishments are so numerous and far reaching, that it is difficult to summarize them all in one short piece.
Charles Diemer and family own Cornacres Holstein Dairy Farms. Charles introduced registered Holstein cattle to Essex County and was a Master Breeder. He promoted the use of artificial insemination to improve the genetics of dairy cattle, and introduced pollinated hybrid corn and also soybeans to his farm in their early days, with both these crops now major contributors to the dairy industry and to the Ontario economy.
His involvement in the cooperative movement began back in the 1930's when Charlie was touched by the needs of farmers struggling during the great Depression with no access to funds to buy seeds or equipment. He became the guiding force behind the Woodslee Credit Union which he and his wife Madeleine operated for fourteen years from a cash box in their own home. More and more farmers joined, and now the Woodslee Credit Union is a vibrant organization with seven branches. After World War Two, he worked to form a number of different cooperatives, including the Essex County Medical Cooperative that provided medical and hospital coverage to local farmers until the Ontario Hospital Insurance Plan (OHIP) was introduced across the province.
Charles was nominated to the provincial board of the Cooperative Union of Ontario for eleven years, where he eventually became President. He led discussions that saw the transition of the United Dairy and Poultry Cooperative to the Gay Lea Cooperative, which today is a thriving farmer-owned dairy processing business. He was instrumental in the formation of The Co-op Fidelity in Essex County which ultimately evolved into the Canada-wide Cooperators Insurance (CIAG). Also under his leadership, the United Farmers of Ontario became the United Cooperatives of Ontario. Each of these cooperatives have made huge contributions to both Ontario agriculture and to the Ontario economy.
Few individuals have been able to affect the progress and economic development of rural Ontario as much as Charles Diemer has done. It is indeed an honour to induct him into the Ontario Agricultural Hall of Fame.