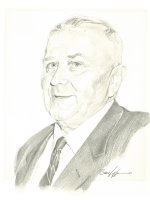 Charles Boynton
(1891 - 1970)
Inducted in 1984
Origin: York Region
Nominated by: Harold Parkinson
Specialty: Livestock - Sheep, Livestock - Swine, Organizations
---
One of Ontario's finest stockmen, Charles Boynton was a competitor who loved to show his livestock and who was recognized as a leading judge of quality animals. At his Gormley Farm, Charles Boynton raised the finest of Tamworth hogs and Cotswold sheep. These he showed at local fairs and at the Canadian National Exhibition for 43 years.
His lifetime involvement with the local Markham Fair led him to become President in 1960 of the Class "A" and "B" Fairs Section of the Ontario Association of Agricultural Societies. He served for many years as Director of both the Canadian National Exhibition and Royal Agricultural Winter Fair.
From 1960 – 1969 he was Sheep and Swine Superintendent at both of these shows. He served as President of the Ontario Swine Breeders' Association and director of the national association. He exported Tamworths to Britain, South America, the United States and Mexico.
Charles Boyton served as a member of the Ontario Agricultural Committee of Enquiry (1943 – 47).