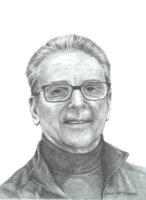 Dale Cowan
Year of birth: 1953
Inducted in 2023
Origin: Oxford County
Nominated by: The Ontario Certified Crop Advisor Association
Specialty: Crops, Technology
---
Dale Cowan graduated from University of Guelph with a Diploma in Agribusiness in 1975 and continued on to receive his BSc. Degree in 1978. Since then, he has had a widely respected career as one of Ontario's early Certified Crop Advisors. He is noted for his adaptation of new technologies for precision farming practices and 4-R Nutrient Stewardship throughout Ontario. In 1990, Dale purchased Agri-Food Laboratories, which had previously provided soil testing to Ontario farmers. Here he brought accreditation for soil testing and grew the lab to offer feed and forage testing supported by Infrared Spectroscopy, as well as greenhouse growing media and nutrient solution testing for vegetables and flowers.
Dale also had the foresight to utilize Global Positioning Satellite Technology in early 1993 to kickstart precision agriculture in Ontario. This enabled field mapping and site-specific soil sampling to identify variability within a field so that variable rate nutrient application could optimize soil fertility He incorporated other mapping technologies to create management zones by soil type, and was one of the first to promote drones to capture in season crop variability by using Normalized Difference Vegetation Index crop imagery. In the early stages of digital communications, he was one of the first to develop an online, password protected portal for customers to access their data and reports.
As the world of precision ag spread, Dale was instrumental in bringing the Certified Crop Advisor program to Ontario in 1996. He has served as an elected director and Ontario board chair of the CCA program and also served as a director and President of the Ontario Agri Business Association. During that time, he also served as Vice Chair of the Provincial Nutrient Management Advisory Committee.
After selling the lab in 2008, Dale became the Agronomy Strategy Manager and Senior Agronomist of AGRIS Cooperative Ltd., headquartered in Chatham. Here he brought AGRIS aboard the 4-R Certification Program which guides staff and farmers on the nutrient best management practices to reduce runoff from fields to surface water. His role as a CCA during the Covid-19 pandemic continued unabated with his extension work done via You Tube, Twitter, podcasts and other digital platforms. Dale was one of the first agronomists to see the potential of extension work conveyed through Real Agriculture.com and appeared in its videos including the Corn, Soybean and Wheat School series. In 2016 - 17, he was actively involved in the development of the AGGrower Daily Dashboard project powered by a network of 80 weather stations in Southwestern Ontario to bring field specific weather data to a farmer-accessible website every 15 minutes.
In 2015, Dale received the Ontario CCA Award of Excellence and in 2016 he was named the International Certified Crop Advisor of the Year. These awards recognized his exceptional and innovative customer service and his substantial contribution to the transfer of agronomic knowledge.
Dale Cowan is an outstanding inductee into the Ontario Agricultural Hall of Fame.