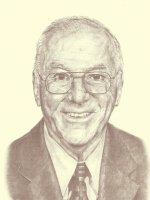 David M. Pelletterio
(1930 - 2011)
Inducted in 2008
Origin: Halton Region
Nominated by: Evelyn Oates, Art and Jean Bennett and the Junior Farmers' Association of Ontario
Specialty: Co-operatives, Organizations
---
David Pelletterio gained much valuable agricultural expertise on the family farm, Ashville Farms Ltd., near Milton, which developed an outstanding Master Breeder Holstein herd. David's expertise as a cattle judge was also honed through the Junior Farmers' Association of Ontario and in 1952-53, he served as President. During that period, he negotiated the Junior Farmer Establishment Loan Program with the Ontario Government. This program provided thousands of qualified young farmers with low cost loans to assist them to enter farming.
Following graduation from the Ontario Agricultural College in 1957, David joined United Co-operatives of Ontario which launched him on a 33-year career with that company, culminating in his appointment as Vice-President, Agri-Products and Services from 1984-1990. Over his career, he excelled in building market growth and sales, making UCO a strong force in the marketplace on behalf of Ontario farmers. Through his active participation in many agricultural organizations and his liaison with key industry stakeholders, he kept UCO registered in the minds of the decision makers when changes to agricultural policies and programs were considered in Ontario.
In 1969, David was a Founding Director of the Canadian Agri- Marketing Association which promoted excellence in the marketing of agricultural products through educational and networking opportunities. As President of that Association in 1972, his determination established the foundation which later resulted in its expansion to five provinces and contributed to the advancement of agricultural marketing. David served as President of OAC'57 from 1992 to 2007 and under his guidance, two very successful fundraising campaigns were completed….a $100,000 fund to provide bursaries to five undergraduates at OAC, and a $210,000 fund to support the new Bioproducts Discovery Center at the University of Guelph. He joined the Board of Directors of Country Heritage Experience Inc. in 1997 and assumed the Chair in 2001. During his tenure, Country Heritage Park (the former Ontario Agricultural Museum) transitioned from being funded by the Ontario Government to being financially independent. This effort will ensure the Park's long-term continuance and Ontarians will be able to continue to experience their agricultural and rural heritage and future advancements of agriculture.
David Pelletterio has also amassed a long list of contributions to his community, the University of Guelph, the Canadian National Exhibition, the Ontario Federation of Agriculture, the Ontario Institute of Agrologists, the Canadian Feed Industry Association and the Ontario Farm Animal Council. He epitomizes the talented, hard-working and enthusiastic leadership which has created the successful and competitive agricultural sector that exists in Ontario in the 21st Century.