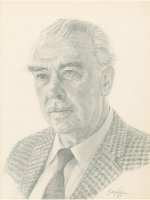 Dean Aubrey Hughes
(1908 - 1987)
Inducted in 1989
Origin: York Region
Nominated by: Markham and East York Agricultural Society
Specialty: Media
---
Born in the village of Roblin, near Napanee, Ontario, Dean Hughes went on to become one of Canada's foremost writers and broadcasters. An excellent communicator, his influence in rural-urban relations, the promotion of agriculture and the arts was felt across the nation.
One of Dean's outstanding contributions to agriculture was his five days a week radio drama "The Craigs of Briarwood Farm." Broadcast on Canadian Broadcasting Corporation (CBC) throughout Ontario and Quebec for twenty-five years, the program was more than the life of a farm family. It was, in fact, a medium for promoting better methods of farming.
Dean Hughes' love of the arts extended beyond writing and producing to music, poetry and literature. He made great contributions to farm magazines such as the Farmer's Advocate and for fifty years wrote many farm radio and television shows. In 1964, Mr. Hughes was commissioned by the CBC to cross Canada interviewing outstanding citizens and businessmen for use in radio broadcasts. He wrote two full musical plays and his published books have included "And So They Bought A Farm" and "Along the Sideroad".
Active in community affairs, Dean Hughes was a member of the Markham Little Symphony, a member of the Markham Fair Board and Advertising Chairman of the Unionville Home Society Building Fund for a home for seniors.