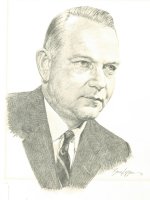 Douglas Lyal Parks
(1918 - 1992)
Inducted in 1998
Origin: Prince Edward County
Nominated by: 1948 and 1956, Kemptville College of Agricultural Technology
Specialty: Crops - Soils, Organizations
---
Doug Parks was a farmer, scientist, writer and teacher who devoted his life to the science of crop improvement. Following the war in 1945, this native of Prince Edward County joined Kemptville Agricultural School as Chief Instructor and Extension Specialist in Field Husbandry. During his 17 years in Kemptville his dedication and enthusiasm had a lasting impact not only on his students but on the community as well.
Mr. Parks was Director of the Soils and Crops Branch, Ontario Department of Agriculture from 1964-1965. He initiated many effective changes in both branches, the results of which were of great benefit to Ontario's agricultural industry. Doug moved to Nova Scotia where he served as Deputy Minister of Agriculture from 1965-1973.
One highlight of Doug's career occurred in 1955 when McClelland and Stewart published his book "Successful Crop Production in Eastern Canada". His preface to the book shows his respect and dedication to family, friends and colleagues and confirms his belief that sound soil management is fundamental to successful crop production.
For his contributions to the Agricultural industry, Doug Parks has received many honours and awards. In 1963 he received the Award of Merit from the Ottawa Valley Seed Growers, a citation from Eastern Ontario Soil and Crop Improvement Association and Director's Certificate from the Canadian Seed Growers' Association. In 1970 Doug was named an Honourary Life Member of the Canadian Seed Growers' Association and in 1982 a "Distinguished Agrologist" by the Ontario Institute of Agrologists. In recognition of his 40 years of activity in soil conservation, he was awarded a certificate from the Ontario Soil and Crop Improvement Association.