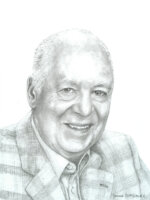 Dr. David Biesenthal
Year of birth: 1943
Inducted in 2023
Origin: Bruce County
Nominated by: Stan Eby, Colin Reesor, Joe Dietrich, Trillium Mutual Insurance Company and Bruce County Beef Farmers.
Specialty: Environment, Veterinarian
---
Dr. David Biesenthal has had a productive career as an equine veterinarian. He was also one of the founding partners of the Walkerton-Hanover Veterinary Clinic and in 1980 founded the Walkerton Equine Clinic and received the Ontario Harness Racing Association's "Outstanding Service Award" in 2007.
But in addition to his accomplishments as a veterinarian, he also owned a Limousin beef herd and cash crop farm, and it was here that the events unfolded which led to his greatest contributions to agriculture and the environment. It all began with Dr. Biesenthal's strong commitment to the environment, becoming an early participant in the Environmental Farm Plan, a disciplined record keeper and a strong advocate for the use of quality data and best management practices on farms.
In May 2000, after a huge rainstorm and the resulting E. coli contamination of the Walkerton water supply, the Biesenthal farm was pinpointed as the initial source of the water contamination….an accusation which was never proven. For the next two years of intense investigation, Ontario agriculture was extremely fortunate that Dr. Biesenthal had the detailed records, the professional credibility, and the ability as an excellent communicator to defend agriculture and its Best Management Practices. Following the inquiry, he was willing to travel across Ontario and Canada to promote the value of the Environmental Farm Plan (EFP) and good record keeping. He used the practices he employed on his own farm to provide real examples of the value of EFP processes.
Then, in 2007, he became an original member of the Source Protection Committee for the Saugeen, Grey, Sauble and North Bruce Peninsula Source (Water) Protection Region. Over the next decade, he helped to review draft Source Protection Plan policies prior to their submission for provincial approval. The result was the final adoption of the Provincial Source Protection Plan.
As a result of Dr. Biesenthal's real commitment to agriculture and its role in ensuring water quality, he has had a profound impact on helping to bridge the rural/urban divide and the adoption of the EFP over the past 20 years. As well, he and his wife founded the David and Carolyn Biesenthal Annual Scholarship for graduate level students doing research on the interaction of livestock waste and the environment.
Dr. David Biesenthal is most deserving of induction into the Ontario Agricultural Hall of Fame.