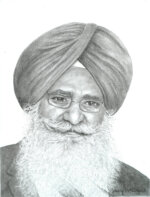 Dr. Tarlok Singh Sahota
Year of birth: 1953
Inducted in 2023
Origin: Thunder Bay District
Nominated by: Thunder Bay Federation of Agriculture
Specialty: Crops, Research
---
Dr. Tarlok Singh Sahota has been pushing the envelope of crop science and adaptation both locally and provincially for nearly 20 years. He managed and sustained the Thunder Bay Agricultural Research Station (TBARS) from 2004-18 and then became the director after its successful transition to the Lakehead University Agricultural Research Station (LUARS). Throughout these years, he focused his research and vigorous extension program on the science and management innovations which would allow the farmers and agribusinesses in the region to thrive and expand their operations. In 1987, Dr. Sahota was chosen to attend an International Course for Development Oriented Research in Agriculture. Here, as a young man, he learned how to analyze production systems for constraints to development then how to plan research and extension programs to work on the priority needs of the regional agriculture. This is exactly the approach he applied at TBARS and LUARS and the resulting outstanding successes speak for themselves.
His early northern Ontario research and extension work identified deficiencies of boron and sulphur in alfalfa and zinc in corn. He initiated research on high nitrogen use efficiency fertilizer and encouraged soil testing for micronutrients. He was diligent in recording straw yield in his cereal varietal testing to assist farmers in identifying varieties with good grain and straw yield in order to add straw sales for additional income. He encouraged reduced and no till practices along with crop variety diversification including canola, feed and malting barley, winter cereals (rye, wheat, and triticale), flax, sorghum Sudan grass, faba beans and others.
All these efforts, combined with 657 publications, extension articles, media reports, farm visits and producer consultations have been major contributors to the thriving agribusiness community in Northern Ontario, leading the way to larger more modern farms and expanded ag retailer locations with increased product lines.
Dr. Sahota has received numerous awards for his work over the years, culminating in 2021 with the Distinguished Agronomist Award, the Canadian Society of Agronomy's highest national level recognition.
As a Certified Crop Advisor, past president of the Canadian Society of Agronomy, a member of the Ontario Soil and Crop Improvement Association and an expert on a number of international panels, Dr. Sahota's expertise, amazing productivity and excellent extension results have all left a lasting legacy in agriculture in Northern Ontario, Ontario, Canada and internationally.
Dr. Tarlok Singh Sahota will be an impressive addition to the Ontario Agricultural Hall of Fame.