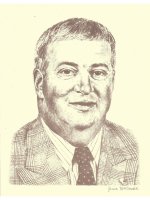 Dwayne Cecil Acres
Year of birth: 1941
Inducted in 2010
Origin: Dundas County
Nominated by: Ontario Sheep Marketing Agency
Specialty: Livestock - Sheep, Organizations
---
The name, Dwayne Acres, is synonymous with the success of the sheep industry across Ontario and Canada. From 1964-2007, Dwayne was a partner with his wife, Laura, in Maple Meadow Farms, a 500 acre dairy, sheep, beef and cash crop enterprise. His sheep flock consistently topped results for rate of gain and feed efficiency, and his ability to breed top performing sheep is recognized around the province and across Canada. Mr. Acres demonstrated insightful leadership throughout the sheep industry, including genetics, performance testing, wool sales, judging, advocacy, marketing, and record keeping. He served on the board of the Ontario Sheep Breeders in the early 70's and helped to change the membership so that it included commercial producers as well as purebred breeders. Out of this grew the Ontario Sheep Association which Dwayne chaired in 1975, leading the establishment of the first check-off for wool. This helped to finance initial Initiatives by the current Ontario Sheep Marketing Agency to advance the interests or the Ontario sheep industry. He became the founding Chair of the Ontario Ram Test Station Committee and was instrumental in establishing and operating ram test stations across the province to enhance the performance testing system. Nationally, he served as Chair of the Canadian Sheep Marketing Council in the late 70's, and In the early 80's as President of the Canadian Sheep Breeders' Association where he helped institute a national venue for the sale of purebred sheep, now the All Canada Sheep Classic sale. He also served as chair of the Canadian Livestock Records Corporation.
Today, Dwayne serves as a Director on the Canadian Cooperative Wool Growers, and is Past Chair of the Sheep Flock Improvement Program Advisory Committee. He also serves as a Board member on the Normal Farm Practices Protection Board.
He has been sought out as a competitive judge both within Canada and internationally, including at the Royal Winter Fair, the Australian Melbourne Royal and the World Sheep Congress. Mr. Acres worked to develop the education format of the Central Canadian Exhibition Association and then founded "Capital Agrifest" to showcase the livestock of Eastern Ontario and Western Quebec and to provide a forum for 4-H livestock and showmanship competitions. In 1992, he was awarded Volunteer of the Year by the Canadian Association of Exhibitions. Active in his community, Dwayne served two terms on Osgoode Township Council, is an active member of his church and Lions Club, and provided leadership as Director and President of several fair boards and associations.
The scope of Dwayne Acres' work and vision on behalf of Ontario's and Canada's sheep Industry has been extensive. He is an exceptional addition to the Ontario Agricultural Hall of Fame.