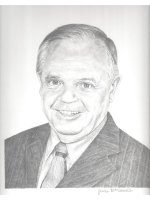 Earl Leonard Wagner
Year of birth: 1945
Inducted in 2015
Origin: Huron County
Nominated by: Hensall District Co-operative Inc., Sylvite
Specialty: Agri-business, Co-operatives, Crops, Organizations
---
Earl Wagner joined the Hensall District Co-operative Inc. (HDC) in 1964 as a sales clerk. Since 1979, when he took over as General Manager, HDC has grown and diversified steadily until today it owns 2 gas bar locations, 4 feed mills, 9 crop retail and elevator units, 16 commercial elevators in Ontario, 2 receiving locations in Michigan and Manitoba and a food grade business which ships products to over 35 countries.
HDC is a major employer in Ontario with over 500 employees at its various locations. Over 2000 farmers are contracted to grow 100,000 acres of dry beans and 100,000 acres of Identity Preserved (IP) beans annually, and all of these producers have access to the latest agronomic services and products to maintain a strong yield advantage. Earl put Ontario on the global edible bean stage and he did so with integrity, sound management and a dedication to growing a customer-focused, farmer-owned agri-business with 5000 members and sales in excess of $650,000,000 last year. This represents a 240% growth over the past ten years and $17,400,000 in dividends paid to the farmer-owners! HDC's investment in growth included $62,000,000 in plant, building and equipment in 2013/14 alone. Plans for 2015 include a larger soybean processing plant in Hensall, new storage silos with receiving and cleaning facilities, a 500 kilowatt Solar Panel project, and a new distribution warehouse in Exeter.
Earl is well-known for working to ensure a sustainable future for Ontario agriculture and is committed to research and development to reduce impacts on the environment and to educate growers on the benefits of sustainability by reducing greenhouse gases and power consumption, soil conservation, water conservation and biodiversity. Quality assurance, food safety and traceability are paramount and HDC has developed an on-line grower recording system called Field Trace to facilitate this. In 2013, Earl introduced "Precision Agriculture" to keep the business abreast of changing trends and technologies in agriculture.
In addition to the long hours Earl Wagner has spent on the ongoing growth of Hensall District Co-operative, he was also a member and a past Chair of The Fertilizer Institute of Ontario from 1988-99. During that time, he strongly supported the development of the Certified Crop Advisor program which became a key to agriculture now and in the future by training crop advisors in the knowledge of the environment as well as the agronomic effects of their recommendations.
Earl Wagner has dedicated 50 hard-working years to the amazing development of the Hensall District Cooperative and is a very deserving recipient of induction into the Ontario Agricultural Hall of Fame.