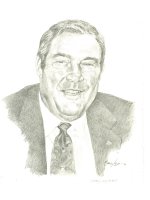 Edward Logan Segsworth
(1938 - 2001)
Inducted in 2003
Origin: Halton Region
Nominated by: Nominated by Ontario Federation of Agriculture
Specialty: Conservation, Organizations
---
Edward Logan Segsworth, from Burlington in Halton Region, committed himself to improving the well being of farmers, their organizations and their support systems. He was determined to help farmers have a good quality of life and was genuinely interested in land use planning, property taxes and nutrient management issues. He advocated effectively on behalf of farmers.
Ed Segsworth was active in all the agricultural organizations in Halton Region. He helped found and later chaired the Halton Agricultural Advisory Committee. He was a member of the International Plowing Match planning committee for 1974, when the match was held in Halton. On behalf of the Halton Federation of Agriculture, Ed Segsworth worked diligently to get assessment of land re-adjusted to reflect the real income generated by farmland rather than by its potential for development. His influence extended to agricultural matters being addressed by Conservation Halton and Bronte Creek Watershed.
Through continued participation Ed Segsworth became president of the Ontario Federation of Agriculture. There, 'Steady Eddie' inspired confidence, promoted shared leadership and encouraged the executive committee to serve as a training ground for future leaders. During his vice-presidency, Mr. Segsworth took on the additional duties of temporary office manager.
As a result of his grass roots approach to helping those in need, the federal Minister of Agriculture called Ed a 'beacon of light for the unfortunate souls who were 15 days without power' in the aftermath of the 1998 ice storm in Eastern Ontario.
Ed Segsworth was known for touring the province to obtain input into the Ontario Federation of Agriculture deliberations. He was a good listener who showed he could be most effective at informal kitchen meetings with farmers. He never sought the spotlight. He was one of the driving forces behind the creation of a consortium of 37 farm and commodity groups. They lobbied governments for a fairer national safety net system, increased financial support for the province's agricultural sector and for restoration of the Ontario Ministry of Agriculture, Food and Rural Affairs to its rightful place in the provincial budget.
Ed Segsworth participated in 4-H Clubs, Junior Farmers', the Agricultural Society, the Soil & Crop Improvement Association, the Ontario Federation of Agriculture and the Conservation Authority. Ed was Farmer of the Year in Halton (1984), received the 10-year Volunteer Service Award from the city of Burlington and the Agri-Food & Rural Communities Volunteer Recognition Award. Ed was one of the original volunteers at the Kilbride Volunteer Fire Station, a member of the property committee at Appleby United Church, and a supporting member of Lowville United Church. A Commemorative Medal for the 125th Anniversary of Canadian Confederation was awarded to Ed Segsworth in 1993.