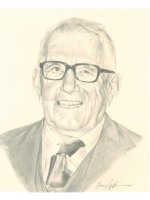 Edward Wallace
(1899 - 1979)
Inducted in 1982
Origin: Ottawa-Carleton Region
Nominated by: Ottawa Valley Seed Growers' Association
Specialty: Crops - Seeds, Livestock - Beef, Livestock - Dairy, Organizations
---
Ed Wallace was born and raised in Nepean Township, Carleton County. In 1923 he was a member of the second class of graduates from Kemptville Agricultural School and in 1929, he entered into partnership with his brother Isaac, to form "Wallace Brothers of Bells Corners". For many years the brothers raised dairy cattle, first milking Shorthorns, then Ayrshires and then Holsteins. In 1962 they discontinued the dairy enterprise and established a beef herd.
But it was as a seed grower that Ed Wallace was to make his mark. His first registered seed was produced in 1924 and the farm quickly became known for its quality seed. By 1932, two carloads of top quality registered Beaver oats were processed through their own seed cleaner. For 42 years Wallace Bros. produced registered seed, and as exhibitors they won many prizes at the local Carleton County Seed Fair, the Ottawa Valley Seed Fair, the Ottawa Winter Fair, the Royal Agricultural Winter Fair and the International Grain and Livestock Show in Chicago. In 1956 Wallace Bros. won the National Barley Award (85 bushels per acre of OAC '21) and in 1957 they repeated with Parkland (67 bushels per acre).
Ed Wallace was the first President of the Ontario Pedigreed Seed Growers Association (1963 and 1964). He won the H. H. McNish Award for Eastern Ontario in 1959 and was named a Robertson Associate by the Canadian Seed Growers' Association. He served and led a host of farm organizations in his lifetime but was especially loved for his work with young people, serving as a 4-H club leader for 31 years and a judge at school fairs for 13 years.