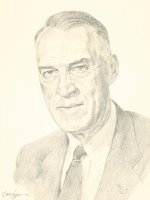 Elliot Irwin McLoughry
(1894 - 1987)
Inducted in 1991
Origin: Grey County
Nominated by: Ontario Agricultural Representatives Branch Association
Specialty: Conservation, Livestock - Swine
---
Devoted to improving agricultural products, the mark of Elliot McLoughry, raised on a farm in Grey County, can be seen in every facet of the industry. His expertise was in translating the scientific advancements of the classroom and laboratory to practical applications on the farm. During the 1920's he introduced the first agricultural "short courses", and in 1925 organized bacon hog fairs which led to rail grading and the establishment of the first advance registry for the swine testing station at New Hamburg. In 1942 he was actively involved in the first commercial program for artificial insemination of cattle and in 1947 organized a comprehensive soil testing program in Waterloo County.
McLoughry's interest in soil conservation led to his appointment as first secretary of the Grand River Conservation Authority and he participated in meetings which led to the passing of the Conservation Authorities Act in 1946. His farm financial expertise was recognized when he was appointed as a director of the Junior Farmer Establishment Loan Board and eventually became board chairman. A prime mover in the Extension Branch of the Ministry of Agriculture, he organized the agricultural engineering service to assist farmers in drainage, buildings, farm machinery and materials handling.
Elliot McLoughry also served his community throughout his career by being an active member of the Galt Kiwanis Club and the Masonic Lodge.