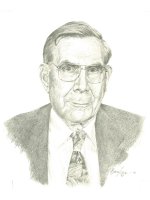 Ernest Andrew Kerr
(1917 - 2008)
Inducted in 2001
Origin: Wellington County
Nominated by: Ontario Institute of Agrologists,  Long Point Branch
Specialty: Crops - Vegetables, Flowers, Horticulture, Research
---
Ernest Andrew Kerr, Wellington County native, is arguably the most successful Canadian vegetable breeder that Canada has produced. This skilled plant geneticist developed a commercially valuable assortment of vegetable and fruit cultivars that have impacted the horticultural industry locally and internationally. Ernie Kerr made major contributions at the Horticultural Research Institute of Ontario over his first 38 year career. His advancements in tomato, sweet corn and other crop germplasm development are unequaled. Use of that material by breeders the world over is equally impressive.
Dr. Kerr was a genius at identifying deficiencies in plant species, finding genes to correct them and incorporating those factors into improved cultivars for release to the industry. The impact of his work is found in the worldwide use of genetic materials he developed and the benefits they provide to the processing industry, the fresh market, growers and consumers. The Canadian Seed Trade Association recognized his contributions by naming Dr. Kerr "Man of the Year" - the first horticulturist so named. Dr. Kerr's contributions leaned more to commercial application in his second scientific career, that of Director of Research for Stokes Seeds, where he concentrated on consumer acceptance through improved taste in cultivars of tomato, sweet corn, and sweet peppers as well as cold tolerant and insect repelling cultivars. He was awarded the H.R.MacMillan Laureate in Agriculture for such work.
In retirement, Ernie continued his career in a third phase, developing a blue colored trillium, the provincial flower. Genetics associated with this long- term project now provides a basis for species improvement at the University of Guelph's Simcoe Research Station. Dr. Kerr received many honors and awards, among them the Rotary Club Paul Harris Fellowship, several awards of merit and listings in several Who's Who publications. As an outstanding scientist, he has produced a host of scientific papers and contributed to many professional organizations. He also is a well-respected community contributor, through church, service club, and family activities.