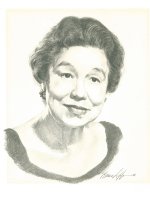 Ethel Brant Monture
(1894 - 1977)
Inducted in 1984
Origin: Brant County
Nominated by: Ontario Association of Agricultural Societies
Specialty: Organizations
---
Ethel Brant Monture will be remembered for her lifetime involvement in the Women's Institute movement and for her support of Agricultural Societies. A farm girl from Tuscorora Township, Brant County, she was active in the farm operations.
She served as a leader in short courses and projects sponsored by the Home Economics Branch, and was the first President of the newly organized Women's Section, Ontario Association of Agricultural Societies.
A descendant of Joseph Brant, she was proud of her native heritage, and worked tirelessly with the Department of Indian Affairs to establish agricultural short courses for native people. In 1960 she joined the staff of the Canadian Council of Christians and Jews and arranged student exchanges between Ontario and Quebec. An avid historian, she authored two books on Joseph Brant, another on "Famous Indians" and lectured widely across Canada on the Canadian Club circuit. In 1967 Mrs. Monture received a Centennial Medal.
Ethel Brant Monture was recognized as a truly great Canadian.