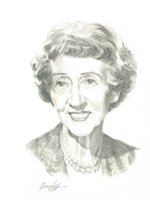 Ethel Chapman
(1888 - 1976)
Inducted in 1980
Origin: Halton County
Nominated by: Federated Women's Institute of Ontario
Specialty: Organizations
---
Born in Halton County, Ethel Chapman began her career as a teacher in Richmond School. She graduated from Macdonald Institute in 1912 and took a position with the Women's Institute Branch of the Ontario Department of Agriculture for 15 years. In 1927 she became editor, Homes Section, of Farmers Magazine, and in 1952, editor of Home and Country for the Federated Women's Institutes of Ontario.
Ethel Chapman authored five books, each in keeping with her inspirational influence on rural women. She also served on the Advisory Committee, Macdonald Institute, and on the Board of Regents of Federated Colleges, Guelph. Her efforts were recognized by an honourary LLD from the University of Guelph in 1966, an OAC Centennial Medal in 1974, and the Honourary Presidency of the Ontario Junior Institute in 1974.
Rural Ontario will long remember Ethel Chapman for her sincere and conscientious work for the welfare of rural families.