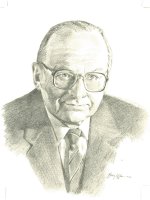 Francis Redelmeier
(1921 - 2001)
Inducted in 2004
Origin: York Region
Nominated by: Jersey Ontario
Specialty: Genetics, Livestock - Dairy, Organizations
---
Francis Redelmeier, a native of Holland, was a compelling proponent of efforts to maximize producer income and to ensure equity among all dairy producers. He believed that equity among producers was achieved through the relationship between the farm gate product and the product demands of the marketplace. Francis was a long time advocate of Multiple Component Pricing for milk, a system that was adopted in Ontario in 1992 and other provinces thereafter. As a diploma student at the Ontario Agricultural College, Francis worked on the world-renowned Jersey farm of B. H. Bull & Sons. After graduation with an undergraduate degree, he built Don Head Jerseys into a respected Ontario herd. He became an established contributor to Domestic Breed Associations, served as Director, then President of Jersey Ontario and later became a Director and President of Jersey Canada.
He was a particularly astute financial manager and innovator during trying times for the Jersey Ontario and Jersey Canada Breed Associations. His terrific grasp of complicated pricing systems and detailed democratic procedures were put to use in the Ontario Milk Marketing Board, which he served as Vice Chairman. He also worked for sound financial management and modernization at the Canadian Livestock Records Corporation. Mr. Redelmeier was an international advocate for the Jersey breed. He contributed his diplomatic skills to the World Jersey Bureau as council member for over 15 years, taking an active part in the Council conferences and meetings in 10 countries. He served as Chairman and President of the Council for several years, during which time the Council updated its constitution, established a head office on Jersey Island and he visited countries where the breed was in early development phases. Mr. Redelmeier received a Jersey Canada Constructive Breeder Award for Superior Type and Production Herds during 1952 - 1977 and again in 1986 - 1989. The Association named Francis a Master Breeder in 1974. Francis became the fourth recipient in 91 years of the Jersey Canada Distinguished Service Award. He also received the USA National All Jersey Award for leadership in milk marketing and one of the first two World Jersey Cattle Bureau Distinguished Service Awards.
Francis Redelmeier contributed to the community in many ways. He was Trustee for 12 years and Chairman of the Board for York Central Hospital. He was a member of the Vaughan Township Agriculture Committee and served as liaison with the City of Toronto regarding the Keele Valley Landfill. He was a member of the Toronto & Region Conservation Authority. His interest in music and the arts led him to serve as Board member of the Guelph Spring Festival and the Toronto Symphony. Francis Redelmeier served as founding Chairman of the Varley Art Gallery in Unionville. He was also honoured posthumously by the Toronto Conservation Authority.