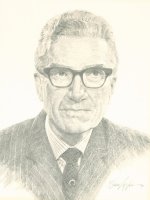 Franklin S. F. Ryan
(1901 - 1963)
Inducted in 1990
Origin: Ottawa-Carleton Region
Nominated by: Ottawa Valley Seed Growers Association
Specialty: Livestock - Sheep, Livestock - Beef, Livestock - Dairy, Livestock - Horses
---
Born near Arnprior, Ontario, Frank Ryan was best known in Eastern Ontario for his daily radio program "The Farmer's Notebook", heard on station CFRA, Ottawa. Mr. Ryan founded station CFRA and, through his program, was able to keep in contact with farmers and to keep farm families up to date with what was happening in the local and national world of agriculture.
Kilreen Farms, owned and operated by Mr. and Mrs. Frank Ryan, received national and international acclaim for their Holstein and Angus cattle, Suffolk sheep and Hackney horses. Progeny and descendants of their renowned Hackney sire "Dufferin Haven" still dominate in their field.
Active in community affairs, Frank was involved in many organizations and associations including the Rotary Club, the University of Guelph Board of Governors and was Honourary Colonel of the Royal Canadian Gunners. He donated part of his farm property for what is now the campus of Algonquin College.
In recognition of his contributions to agriculture, he was previously named to the Canadian Agricultural Hall of Fame.