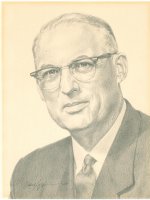 Fred W. Bray
(1905 - 1978)
Inducted in 1981
Origin: Niagara Region
Nominated by: Ontario Egg Producers' Marketing Board
Specialty: Livestock - Poultry
---
Fred Bray had a boyhood hobby of poultry raising that became his life's work when he graduated from the Ontario Agricultural College, Guelph In 1926 and returned home to St. Catherines to develop Canada's largest poultry hatchery business. By the 1930's Bray Hatcheries, with head office in Hamilton, were located from Manitoba to Nova Scotia and during the 1950's he marketed 6,000,000 chicks per year with 500 breeder flocks and 300 commission salesmen.
Fred Bray served the industry in many capacities. He was secretary of the Ontario Hatcheries Association from 1930 - 1940 and chairman in 1948,a member of the Ontario Poultry industry Committee in the 1930's and chairman in 1940 in 1940 and a member of the Poultry Producers Institute for many years. He was especially concerned about poultry disease control and helped sponsor "Canada Approved Chicks".
Upon his retirement in the early 1960's he served as far Eastern advisor for the Shaver Poultry Breeding Farms at Galt.
An entrepreneur of great courage, skill and integrity, Fred Bray was recognized by Awards of Merit from both the Ontario Poultry Council and the Canadian Hatchery Federation.