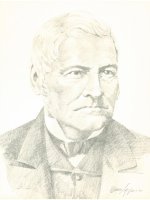 Frederick William Stone
(1814 - 1895)
Inducted in 1990
Origin: England
Nominated by: Ottawa Hereford Association
Specialty: Livestock - Sheep, Livestock - Beef, Livestock - Swine
---
Frederick W. Stone emigrated from England to Canada in 1831 and settled on a 200-acre farm on the Puslinch Plains just south of Guelph, Ontario. His farm was later expanded to 583 acres and he became one of the first Canadians to import purebred livestock from Great Britain. While he imported Shorthorn and Hereford cattle, Berkshire and Large White hogs, Southdown and Cotswold sheep, his greatest contribution to Ontario agriculture was as the first importer of Hereford cattle to Canada in 1860.
Mr. Stone's Hereford herd expanded and became the largest in North America 20 years later. He sold and shipped stock to other Ontario farms as well as beef farms from Maine to Colorado in the United States. His Hereford cattle were consistent winners in Canadian and U.S. show rings. When the American Herd Brood was established, Mr. Stone's herd was classified as the largest and best Hereford operation in North America.
In 1873, Fred Stone sold 550 acres to the Ontario Government and it was on this land that the Ontario Agricultural College was built.
Mr. Stone was one of the first persons named to the Canadian Agricultural Hall of Fame.