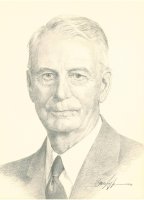 G. Arthur Brethen
(1877 - 1968)
Inducted in 1985
Origin: Peterborough County
Nominated by: Peterborough Co. Milk Committee/ Norwood Fair
Specialty: Livestock - Dairy, Organizations
---
G. Arthur Brethen was an outstanding example of a rural leader.
A native of Norwood, Peterborough County, he started the Hillcrest Herd of Holstein-Friesians in 1904 The herd later produced the first Canadian cow to yield more than 29,000 pounds of milk on one year Many Hillcrest bred cattle were exported to countries around the wor1d.
Mr. Brethren was the first President of his county Holstein Club and when the United Farmers of Ontario was organized in 1914, he served as the first Vice-President. As a candidate of the National Progressive Party, he was elected to Parliament for the term 1921- 1925.
The main coliseum at Norwood Fair is named in his honour to mark the 40 years of service and his efforts to make the fair more effective.
He was an enthusiastic supporter of 4-H Club activities and many young people became calf club members through his efforts. Active in his community, G. Arthur Brethen faithfully served his church for many years as well as other boards and community activities.