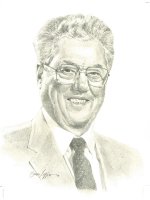 Garnet Alvin Ralph
(1924 - 2016)
Inducted in 2005
Origin: Leeds & Grenville United Counties
Nominated by: Harold Crawford
Specialty: Agri-business, Crops, Crops - Seeds, Crops - Grain, Livestock - Dairy, Organizations
---
Garnet Ralph is widely recognized as an agricultural innovator, mentor and a renowned livestock and grain judge. He grew up on the family farm, was active in 4-H and Junior Farmers, and graduated from Kemptville College in 1947. He purchased his own farm operation at Richmond in 1949.
Mr. Ralph was quick to test new techniques and technology to improve production on his farm. The results of his work were freely shared with producers and led to major advancements in production efficiencies in Eastern Ontario farms and beyond.
Mr. Ralph was one of the first farmers in the area to install tile drainage. This improved his land to grow Registered and Certified cereal grains, grass seed, clover and soybeans. He successfully grew corn and with an award-winning yield of 87 bushels per acre of grain corn in the early 1960's, he was instrumental in convincing Eastern Ontario farmers to produce this crop. He conducted field trials for seed companies and test plot experiments for Kemptville College. His techniques for improving pasture production were adopted by many Eastern Ontario farmers and led to two W.M. Ewing Trophy awards. While managing a milking herd of 85 Holstein cows he developed local and export markets for Pure Bred and Grade Holstein replacement cattle, an enterprise that at its peak grew to 1000 head.
After partnering with CIL and later with Cyanamid as a dealer he started Ralph Dale Fertilizers in 1963. He pioneered the concept of bulk fertilizer in Eastern Ontario. His high analysis mixes led to fertilizer sales in eastern counties doubling in a two-year span, and tripling in six years with continued growth until the early 1980s. Availability of bulk fertilizers enabled farmers to customize applications to soil conditions and crop production targets.
Mr. Ralph was an outstanding judge of livestock and field crops and received numerous personal awards including being a member of the team that won the Ontario and the National dairy judging competitions in 1943. He became an official judge for the Holstein Friesian Association in his late twenties. He also judged field crop competitions in cereal grains, grain corn, and silage for county organizations over a 35-year period. As a judge he was instrumental in assisting producers to improve the quality of their crops and livestock.
Mr. Ralph served on many boards, associations and organizations in various capacities. Some of these included the local Public and High School Boards, County Soil and Crop Improvement Associations, Fair Boards, the Ontario Research Council and the Ontario Agriculture College Advisory Council. The International Plowing Match was held on his farm in 1983. In the later 1970's Garnet was given the W.G. Thompson & Sons Outstanding Leadership in Agriculture Award and in 1986 an Achievement Award from the Plant Food Council.
Garnet Ralph is a generous man who invited local, national and international people to his farm to observe and learn his techniques. He has been a great contributor to the growth in agricultural productivity and innovations in crop production. He assisted young farmers with advice and problem solving solutions involving the whole family.