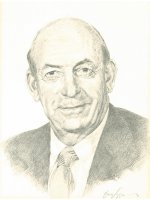 Garnet Baker Rickard
(1915 - 1994)
Inducted in 1996
Origin: Durham Region
Nominated by: Ontario Seed Growers' Association and Ontario Soil and Crop Improvement Association
Specialty: Crops - Seeds, Organizations
---
Farmer, seed grower, businessman, politician, Garnet Rickard played many roles in life and all of them well. Born on a 100-acre farm near Bowmanville, Garnet was educated at local schools and was active in 4-H and Junior Farmers.
While still a very young man, he entered the field of registered seed growing with two bushels of oats he won in a seed fair. Over the following decades, he proved to be an incredibly prolific seed grains grower winning many awards at the Royal Agricultural Winter Fair. Named as the first Durham County Corn King, Garnet Rickard also enjoyed success at the Chicago International Show in 1946 for his oats. In partnership with his sons, Jim and Don, Garnet's Ceresmore farms grew to incorporate over 1300 acres specializing in purebred Shorthorn cattle, swine, seed grain of wheat, oats, barley, soybeans, white beans, pumpkins, cash crops and an apple orchard.
Active in many agricultural organizations including the Durham County Agricultural Society and the Durham County Federation of Agriculture, Garnet also played a key leadership role in the Soil and Crop Improvement Association. He served as provincial president in 1945 and president of the county association in 1950.
Garnet served as President of the Canadian Seed Growers' Association from 1961-63. Dedicated to improving the quality of Canadian agriculture, Garnet made a substantial contribution to these organizations. His broad knowledge of crops and cropping was recognized by Ontario Ministry of Agriculture, Food and Rural Affairs and the Crop Insurance Commission. He served as member of the Crop Insurance Arbitration Board.
Always interested in diversifying, Garnet had established the first seed cleaning business in Durham County in 1934. In 1965 he established Ceresdale Fertilizers in conjunction with Cyanamid of Canada, which served south central Ontario for 25 years. A local leader, Garnet served as councillor, Deputy-Reeve, Warden and Reeve in Durham County. Acclaimed as the first Mayor of the town of Newcastle, he served his community as Mayor for 11 years, while at the same time working with the Newcastle United Church and the Bowmanville Rotary Club, which recognized him with a Paul Harris Fellowship.
For his lifetime of dedication and work, Garnet was recognized locally when the Bowmanville Recreation Complex was named in his honour, provincially by the University of Guelph with a Centennial Medal, and by country, with the Order of Canada.