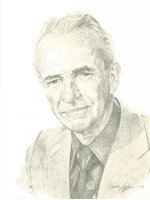 George A. McCague
(1905 - 1993)
Inducted in 1994
Origin: York Region
Nominated by: Gay Lea Foods Co-operative Limited
Specialty: Co-operatives, Organizations
---
George McCague was a visionary in the area of the structure of agriculture and the orderly marketing of its products. Born and raised near Richmond Hill, York County, he obtained a B.S.A. at the Ontario Agricultural College in 1928.
After working in the food industry for a decade, McCague turned to farming near Harriston in Minto Township where he built a large and diversified operation. It was during this period that he devoted himself to the organization and development of the co-operative movement in Ontario. As the first President of the newly formed United Dairy and Poultry Co-operative, he helped lay the groundwork for the current organization, Gay Lea Foods Co-operative Limited. He held executive positions in many associations, including Ontario Federation of Agriculture, United Co-operatives of Ontario and Ontario Stockyards Board.
George McCague's leadership and wide experience led him to the Chair of the Ontario Farm Products Marketing Board where he was instrumental in formulating the policy and regulations underlying Ontario's marketing board system.
McCague was known for his honesty and integrity. During the formative years of marketing boards, his conciliatory approach as a negotiator created a climate of trust and mutual understanding among producers, processors and government. One of his most outstanding achievements was in the dairy industry. As first Chair of the Ontario Milk Commission, he guided the milk industry toward a system of supply management in which it has prospered and become a model world-wide.
George McCague traveled to Europe and Israel as a member of the first Canadian Tobacco Trade Mission. After his retirement to a cow-calf operation near Port Elgin, he represented the interests of farmers on the Royal Commission on Electric Power Planning.