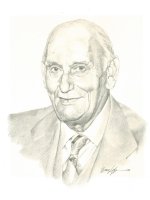 George E. Raithby
(1901 - 1981)
Inducted in 1984
Origin: Huron County
Nominated by: OAC Alumni Association
Specialty: Education, Livestock - Dairy
---
Born in Huron County, George Raithby graduated from the Ontario Agricultural College, (OAC) Guelph, in 1922 and remained on that campus for a lifetime of teaching, research and promotion of all breeds of livestock.
He was Chairman of the Selective Registration Committee for the Holstein-Friesian Association of Canada. For many years, he was official Classifier for the Ayrshire, Jersey and Guernsey breeds in Canada and the United States, and he earned world renown as a dairy cattle judge.
George Raithby was a director of the Royal Agricultural Winter Fair and became head of the Animal Husbandry Department of the Ontario Agricultural College in 1954. He was author or co-author of at least 60 scientific publications. In 1952 he was made a Fellow of the Agricultural Institute of Canada and in 1973 was named the first Professor Emeritus of the University of Guelph. But Professor Raithby is remembered also for his OAC livestock judging teams.
Highly respected, he was honourary President of four classes at the Ontario Agricultural College.