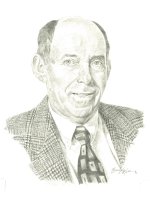 George Graham Earley
(1943 - 2022)
Inducted in 2002
Origin: Middlesex County
Nominated by: Gary Brien and family
Specialty: Livestock - Sheep, Livestock - Beef, Organizations
---
George Graham Earley as a young man from Kerwood, Ontario, was a very successful exhibitor of beef cattle with an accomplished eye for livestock. He became the youngest student to graduate from Ridgetown College of Agricultural Technology whereupon he attended and graduated from the College of Auctioneering in the U.S.A.
As Canadian President of the Aberdeen Angus Association, George Earley guided the association through mediation to maintain the purity of purebred Angus cattle. Later in his career, George concluded that cost of production and feed conversion efficiency were going to be the determining factors in profitable beef production. Consequently, he shifted his focus from purebred Aberdeen Angus to crossbred beef production. George sought out and purchased non- traditional beef breeds like the Chianina, from Italy and the Belgium Blue from England and introduced them into his conventional purebred herd. He pioneered the introduction and use of exotic breeds of cattle into Ontario and as a result transformed the beef industry in this country. He has established and sourced breeding stock for many herds across the nation. He has judged and exhibited at most major shows across Canada.
Hillcrest Farms, owned by George and his two sons, has exhibited more market and 4-H beef champions in the live and carcass classes at the Royal Agricultural Winter Fair than any other operation in living memory. Over the past 35 years, George Earley has involved himself with a passion in 4-H, Junior Farmers and other youth activities. His 4-H judging and showmanship sessions are legendary. Young people continue to gather at Hillcrest Farms to learn the skills and lessons associated with modern agriculture on matters of showmanship, feeding, modern cropping techniques and farm safety. Because of a serious farm injury in 1990 he serves as a motivational speaker on farm safety. He is also a participant in the Ontario Children's Rural Safety Program and a number of Canadian Farm Safety programs in schools, exhibitions, fairs, farm shows and urban venues. George provides a role model for youth, who respond positively to his friendly and helpful approach.
Mr. Earley's communication skills are well known since he has been the focus of countless articles and stories in local, provincial and national press, radio and TV. George's upbeat emphasis is on explaining clearly, the complicated agricultural problems, the role of youth and the contribution of agriculture to the rural and urban communities of the nation.
George's auctioneering career spanned a period of 35 years during which time he became involved in the sheep industry. He and two others were instrumental in forming the Great Lakes Sales for purebred sheep breeders. In addition to the regular farm, commercial and charitable auctions he has served as top auctioneer for the World Sheep and Wool Congress and the Royal Canadian Sheep Sale.
Mr. Earley serves on a wide variety of boards, committees and community groups in agriculture, business and government. He is a promoter of land stewardship in his municipality. He was named Farmer of the Year in Middlesex County in 1984 and received the Canadian Centennial 125 year medal in 1992. He was named Ontario Angus Association producer of the year in 1996.
George Earley remains as one of Ontario's most respected and astute cattle industry leaders – an innovator, pioneer and agricultural mentor.