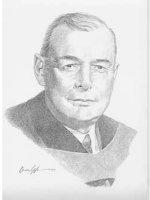 George I. Christie
(1981 - 1953)
Inducted in 1982
Origin: Dundas County
Nominated by: OAC Alumni Association
Specialty: Education
---
Dr. George Christie was born in Winchester, Dundas County, and he graduated from the Ontario Agricultural College (OAC) in Guelph in 1902 before migrating to the United States for post-graduate training and an outstanding career in the public service. He acquired a B.S.A. degree in Iowa in 1903 and his D.Sc from the same university in 1925. For more than 20 years he distinguished himself in the United States first as secretary of the Indiana Corn Growers in 1906, then as director of extension, Purdue University in 1909 and in 1917, Indiana State Food Director. In 1918 he was appointed assistant to the United States Secretary of Agriculture in Washington and finally, director of the Purdue University Experimental Station in 1920.
In 1928, "GI" Christie came "home" to the Ontario Agricultural College at Guelph as President and he served in that capacity with distinction until 1947. They were important years for the OAC largely due to Dr. Christie's drive and enthusiasm. He promoted the OAC to both farm and urban folks, utilizing the annual "Farm & Home Week" to bring as many as 20,000 people to the campus. Visitors were encouraged to use college services, take extension courses and enrol their families as students.
Academically and structurally the OAC thrived under Dr. Christie's guidance. Johnston Hall, Watson Hall, the horticultural building and greenhouses, and the central heating plant were added during his presidency.