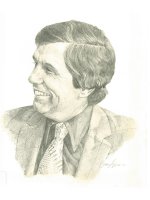 Gerald James Long
(1933 - 1998)
Inducted in 2000
Origin: Middlesex County
Nominated by: Ontario Fruit and Vegetable Growers' Association and Ontario Apple Marketing Commission
Specialty: Crops - Fruit, Livestock - Swine, Livestock - Poultry, Organizations
---
Gerry Long, a Middlesex county entrepreneur, is remembered as a vibrant leader who worked tirelessly in the agricultural industry for the common good. His vision spanned many organizations and commodities, particularly swine, eggs, and apples. He served as Director on the Ontario Egg Producers' Marketing Board for 21 years.
Mr. Long was instrumental in convening a meeting of apple growers in the late sixties who determined that the apple industry should vote to decide whether they would have a marketing board in Ontario. For many years he was elected by London area apple growers to represent them on the Apple Marketing Commission. He was its Chairman for 24 years. He was the driving force in developing the Tri-Partite Stabilization Plan for the Canadian apple industry. Gerry represented Ontario in the preparation of a national plan for a supply management system for apples in Canada.
For eight years Gerry Long was a member of the Ontario Fruit and Vegetable Growers' Association, before becoming its President in 1972. He led the industry into a million-dollar contribution to the Edmond C. Bovey building on the University of Guelph campus.
As President of the Canadian Horticultural Council in 1989, Gerry dealt with one of the first food safety scares, which prompted the Council to implement a crisis management plan for the industry in Canada.
He was a founding member of Marbrite Foods, the founding Chairman and President of Progressive Pork Producer's Co-operative and Chairman of Ingreen Valley Foods Growers' Co-operative. He was a member of the Chamber of Commerce, the London area Easter Seals of Canada and the Western Fair Association.
Gerry received the Ontario Agricultural College Centennial Award, the Uniroyal Golden Apple Award, the Ontario Fruit and Vegetable Growers' Association Award of Merit, the Ontario Agricultural College Outstanding Service Award, the Easter Seal Campaign Service Award and the Rotary International's Paul Harris Award. Gerry Long was one of Ontario's outstanding agriculture and business leaders.