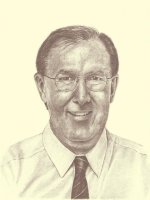 Gintarius (Ginty) Frank Jocius
(1946 - 2008)
Inducted in 2009
Origin:
Nominated by: Canada's Outdoor Farm Show
Specialty: Agri-business
---
Ginty Jocius was an entrepreneur who was committed to agriculture, who specialized in communications, and who was always looking for the next big idea. As a self-proclaimed entrepreneur, he was often able to conceptualize and then launch unique businesses designed to enhance agribusiness marketing, networking and design.
From 1979 to 1982, he helped to plan and launch the Ontario Beef Exchange, the first ever video-electronic beef auction and the precursor to the current Ontario Livestock Exchange in Waterloo.
In 1978, he established Ginty Jocius and Associates, which was an integrated communications firm specializing in public relations, marketing, and design for agribusinesses and government.
By 1997, Ginty had founded SRA (Strategic Research Associates) to assemble research data and statistics for agriculture-based businesses. In 1998, he began agribiz.net which was a full service e-business and web development agency specializing in agriculture. In fact, Ginty Jocius was busy developing the internet as a new communications vehicle before many of us had even heard of it. Agribiz.net was eventually amalgamated into farms.com, a leading provider of information products and services for the global agriculture and food industry.
One of Ginty's most visible creations is Canada's Outdoor Farm Show in Woodstock, Ontario, and he was its President until his death in 2008. The Outdoor Farm Show is demonstration-oriented and features the latest innovations in agriculture technology. It is also noted for fostering networking opportunities for professional farmers. It is appropriate that he was honoured by the Canadian Agri-Marketing Association in 1995 as Agri-Marketer of the Year.
Ginty Jocius also worked tirelessly on behalf of opportunities for youth involved in agriculture both at the University of Guelph and in 4-H Ontario. Through the Outdoor Farm Show and the U of G Access Fund, Ginty set up the Student Travel Fund to assist U of G students in traveling to agricultural seminars and conferences to study communications and marketing. He also started a fundraising auction at the Outdoor Farm Show to celebrate 4-H Ontario's 90th anniversary and to facilitate new ideas for 4-H, especially in environmental awareness and green education.
Ginty Jocius left behind a legacy of deep commitment to Ontario agriculture and a stellar reputation as an innovative and creative marketer of agribusinesses, both large and small. His equally creative and hardworking wife, Lorie, ensures that this legacy will continue as she keeps the momentum going at Canada's Outdoor Farm Show.