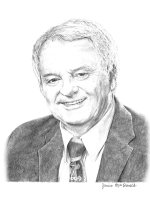 Gordon A. Surgeoner
Year of birth: 1949
Inducted in 2014
Origin: Middlesex County
Nominated by: Grain Farmers of Ontario; Terry Daynard
Specialty: Government, Research, Technology
---
Gordon Surgeoner, PhD. has made extensive, significant and ongoing contributions to Ontario's agrifood sector. He began to make his mark as a medical entomologist at the University of Guelph from 1976-2005, researching insect-borne disease control. He supervised 15 post-graduate students and was awarded the coveted Distinguished Teaching Award in OAC in 1989.
He was the Chair of the Ontario Farm Environmental Coalition from 1990-98 which developed the Ontario Environmental Farm Plan which now has over 30,000 Ontario farms operating under farm-specific environmental audits. This Plan became a key part of the national Agricultural Framework Agreement of 2003.
Gord Surgeoner began to champion new technologies to improve health, the environment, the growth of new business as well as new opportunities in the farming sector. In 1997, he was seconded to the Ministry of Energy, Science and Technology in order to develop a strategic plan for biotechnology in both medicine and agriculture. This Plan continues as the basis of the regulations, applications and promotion of biotechnology in Ontario. At the same time, Gord was also an influential member within the Canadian General Standards Board to develop a Canadian standard for the labeling of foods derived from or not derived from bio-engineering.
From 1990-2000, Gord served as Policy Advisor for AgCare, whose initiatives led to mandatory certification for the use of farm pesticides in Ontario. He and AgCare also played critical roles in Ontario's Food Systems 2000 Program which decreased pesticide usage in Ontario by 50% over 15 years.
He was also central in the creation of OAFT, (Ontario Agri-Food Technologies) in 1998, an independent organization developed by agricultural groups, agri-food companies, universities and government ministries to provide leadership on the development and use of advanced technology for agriculture and food production in Ontario. Gord was the founding Chair and then became the President, a role in which he continues today. OAFT has become one of Ontario's most important organizations for the advancement of new bio-based science technologies. As President, Gordon Surgeoner has been tireless in identifying, and promoting new technologies to assist in the creation of new businesses and business clusters leading to safer and healthier foods, cleaner environments and greater economic prosperity. To cite but three of these technologies:
• Gord helped Biox to use a new technology to convert used cooking oil and waste fat into biodiesel. Thanks to Gord's persistence, Ontario's fuel tax laws were changed to give biodiesel the same tax consideration as other renewable fuels. Now a Biox plant in Hamilton produces 60 million liters of biodiesel yearly.
• Surgeoner helped Advanced Micro Polymers Inc. to develop a range of starch-based paints, coatings, inks and mulches, which has been a benefit both to the environment and the economic well-being of Ontario farmers.
• He played a vital match-maker role in assembling a business consortium involving Green Ripple Innovations, New Energy Farms in Leamington, two extrusion manufacturers in Waterloo and a U of G derived technology to produce a range of agricultural fibre/polymer products.
Gord has served on a number of biotechnology boards including the Biotech Council of Ontario, the Ontario Bio Auto Council, the Bio Industrial Innovation Center in Sarnia, the R & D Challenge Fund, the Biotech Human Resource Council and Sentinel Bioactive Paper to name a few. He has received numerous awards including the Award for Contribution to Advancing the Benefits of Biotech for Canadians in 2002; the Queen's Golden Jubilee Award in 2002; the Order of Ontario in 2005; the U of G Alumnus of Honour Award in 2007; the Life Sciences Ontario Community Service Award in 2011; and the Queen's Diamond Jubilee Award in 2012.
Gord Surgeoner is a unique contributor to Ontario Agriculture and Food and is a most deserving recipient of the Ontario Agricultural Hall of Fame Award.