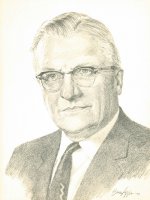 Gordon McGavin
(1905 - 1976)
Inducted in 1997
Origin: Huron County
Nominated by: Ontario Plowmen's Association
Specialty: Equipment, Organizations
---
Gordon McGavin believed in farm people, good plowing, soil conservation and agricultural education. As a businessman he started a Cockshutt dealership and livestock shipping business on the home farm in Huron County. Under his leadership the business grew to employ 22 people.
Gordon was particularly active in competitive plowing and in the Ontario Plowmen's Association (OPA). He served as a director of the OPA for many years and as president for four. He was named champion plowman at the International Plowing Match in 1926 and in 1958 managed the Canadian team at the World Plowing Match in West Germany. It can be said that his wise counsel, his enthusiasm and his generosity were instrumental in the growth and expansion of both OPA and the International Plowing Match and Farm Machinery Show.
An active participant in community activities, McGavin served on the Seaforth High School Board for several years as member and Chairman. During his time, agriculture was introduced to the curriculum and a mechanics building and barn were added. Gordon was active in the Brussels and Seaforth Lions Clubs, Huron County Soil and Crop Improvement Association and was responsible for the first 4-H Tractor Club in Huron County.
A man of great integrity, Gordon McGavin's warm personality and sense of humour touched the lives of all those he met.