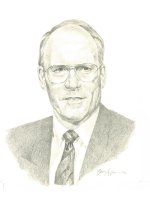 Graydon Thomas Bowman
(1936 - 1999)
Inducted in 2000
Origin: Timiskaming District
Nominated by:  Ontario Soil and Crop Improvement Association, Ontario Seed Growers' Association, and Temiskaming Federation of Agriculture
Specialty: Crops - Seeds, Crops - Grain, Organizations
---
Graydon Thomas Bowman, a native of the Temiskaming District, specialized for 40 years in the pedigreed seed industry, producing cereal and forage seed, and with his spouse Laurel and family operated a beef cow-calf enterprise near Thornloe.
This respected and innovative pedigreed seed producer was honored as a Robertson Associate on 1986 by Canadian Seed Growers' Association. Graydon served as president of Canadian Seed Growers' Association in 1995-97 and the Ontario Seed Growers' Association in 1997-98.
He helped New Liskeard College of Agriculture Technology introduce leafcutter bees to the Northern Ontario seed industry. Mr. Bowman served as the first President of the Canadian Seed Institute, in 1997, while it established a CSI Quality Assurance Program.
Graydon Bowman was a founding member and President of the Temiskaming Grain Grower' Association, which helped bring a grain elevator to north-eastern Ontario. He promoted and marketed pedigreed seed at every opportunity, serving as guest lecturer on many programs at the New Liskeard College of Agricultural Technology. Graydon also on the Advisory Board of the College as well as the Agriculture Research Institute of Ontario.  He worked with the coalition that reinstated the northern research at New Liskeard Agricultural Research Station when the government closed the Now Liskeard College of Agricultural Technology in 1993.
Through activities with the Ontario Soil & Crop Improvement Association, the Seed Growers', the Seed Trade and SeCan he encouraged formation of Forage Councils at the provincial and federal levels.
As a Director of the Ontario Soil and Crop Improvement Association from 1970 to 1983 and President in 1982, Graydon encouraged improvements in soil, water, manure, and crop management.
He also served as a member or the Advisory Committee tor chicken processing and marketing in Northern Ontario.
Mr. Bowman gave unselfish and inspired leadership to 4-H, Junior Farmers, Agricultural Societies,  the Temiskaming Federation of Agriculture, Kerns Lions Club and Northern Telephone Ltd.
Graydon Bowman balanced his faith, family life, career and various interests to become an outstanding agricultural leader locally, provincially and nationally.