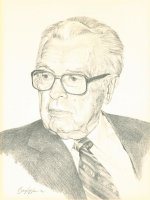 H. Reginald Drysdale
(1907 - 1994)
Inducted in 1997
Origin: Simcoe County
Nominated by: Christmas Tree Growers' Association of Ontario
Specialty: Christmas Trees
---
Born on a farm near Elmvale, Ontario, Reg Drysdale, more than any other, was responsible for the growth of Ontario's Christmas tree industry to the point where over one million trees are harvested annually.
While teaching in a one-room school he became very interested in conservation and encouraged his students to plant trees. In 1951 Reg was a founding director of the Ontario Christmas Tree Growers' Co-operative, an organization that became the Christmas Tree Growers' Association of Ontario. Drysdale served as its secretary-treasurer for 35 years and retired in 1986 as Director Emeritus. Later he was recognized for his conservation efforts by receiving the prestigious "White Pine Award" from the Huronia Woodlot Owners' Association.
Reg Drysdale was among the very first in North America to apply horticultural practices to Christmas tree production. His knowledge on how and when to prune trees to improve their quality benefited all growers.
Innovative and mechanically inclined, Reg designed the first Christmas tree baler to be used in Ontario. He had three machines built which incorporated the principle of a ship's wheel to spin a bale of twine around the tree as it was winched through a large funnel. The machines remain in use today.
Perhaps Reg Drysdale's greatest achievement was recognizing the potential of choose-and-cut farms where families could experience cutting their own trees.