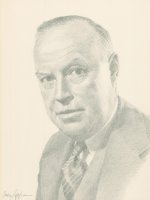 Harry Clifford Hatch
(1884 - 1946)
Inducted in 1989
Origin: Niagara Region
Nominated by: T.G. Bright and Company Ltd.
Specialty: Crops - Fruit, Livestock - Horses
---
Harry Hatch was an industrialist and sportsman with a firm belief in the value of research and development.
Mr. Hatch and his associates acquired a controlling interest in T. G. Bright and Company Limited in 1933. It was his decision that the Company embark on an intensive program of grape research, a decision that was to change the very character and nature of an entire industry. Convinced that European vinifera grapes could prosper in Niagara, the Company embarked on a project which encompassed the introduction and acclimatization, to the Niagara Peninsula, of strains and varieties of grapes which had never before been grown in this country. His viticultural research program eventually led to Canadian wines achieving international honours.
As a thoroughbred horseman, Harry Hatch devoted many years to the improvement of the breeding of thoroughbred racehorses in Ontario. He imported stallions from the United States and Argentina to be bred to Canadian mares. Thoroughbreds from the Hatch Stable won many Stakes races, including five King's Plates.
Others recognized the abilities of Harry Hatch as a businessman, and he served as a director of several leading Canadian companies.