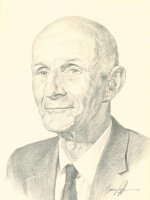 Harry Wilson
(1887 - 1982)
Inducted in 1985
Origin: Kent County
Nominated by: King Grain Limited
Specialty: Livestock - Beef, Livestock - Dairy, Livestock - Swine, Organizations
---
Harry Wilson, acknowledged as the dean of agriculture in Kent County, provided leadership and dedication to the livestock marketing industry in Ontario. He served as Chairman of the Ontario Stock Yards Board for 10 years during which time the new Exchange Building was completed and the auction system of selling was initiated. He was one of the originators of the Red Triangle Baby Beef Marketing Association.
Mr. Wilson was instrumental in starting the Howard Fraleigh Grass Club, a forerunner to the Ontario Pasture Research Committee.
In his home county he held executive roles in the Livestock Improvement Association, Kent County Milk Producers and Kent County Swine Producers as well as the Canadian Sugar Beet Association.
Harry Wilson was the first recipient of the Chatham and District Chamber of Commerce "Agriculturalist Of The Year" award. He was made a member of the Order of the British Empire granted by King George VI for his efforts in food production during the war.