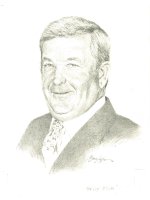 Harvey James Brown
(1938 - 2004)
Inducted in 2006
Origin: York Region
Nominated by: Markham & East York Agricultural Society
Specialty: Livestock - Beef, Organizations
---
Harvey Brown is widely acclaimed as a leader who served agricultural and urban communities with honesty, sincerity and integrity. Following graduation in 1963 with a degree in Agricultural Science from the Ontario Agricultural College, which was then part of the University of Toronto, Harvey embarked on a life-long journey in agriculture. Starting with his family beef farm Harvey quickly learned to farm successfully in the urban shadow. His mediation skills permitted him to find the middle ground in conflicts between the needs of consumers, urban communities and production agriculture.
From his home base he gave generously of his time to the advancement of agriculture on many fronts. He was a Director of the York Federation of Agriculture for 27 years and served two terms as President. As Director of the Ontario Federation of Agriculture and member of its Consumer Education Committee he supported the development of "Agriculture in the Classroom" programs that led to the creation of Ontario Agri-Food Education Inc., an association that ensures that agriculture is included in the Ontario curriculum expectations.
He served as Chair of the York Farm Safety Association from 1985-2003. He was a member of the Agricultural Research Institute of Ontario for six years, chair in 1992, and demonstrated dynamic leadership in recommending research programs to the Ontario Ministry of Agriculture and Food. In the field of farm policy he provided leadership in several areas. He acted as the Central Ontario Beef Peer Reviewer for the Ontario Farm Animal Council; as a Director for six years of the Provincial Normal Farm Practices Appeal Board he offered his astute and fair understanding of agriculture to the development of standard practices; Harvey guided the Peer Review Committee for the Environmental Farm Plan in York Region for 11 years: he brought a knowledgeable and strong voice to the Land Use Policy Focus Team of the Greater Toronto Area Agricultural Action Committee; and as a member of the Greenplan Research Coordinating Committee he outlined research programs for environmentally sustainable agriculture.
Harvey was also proactive in the beef industry as a life-long 4-H Beef Club Leader and provided leadership to the Ontario Cattleman's Association and the York Region Cattleman's Association.
Harvey is also noted for his community involvement. President in 1976 and 35 year committee member of the Markham-East York Agricultural Society he served on most livestock committees, chaired the financed committee, promoted agricultural education and guided the Board through the complexities of re-locating the fair to a new site; he was the sounding board for the Property Standards Committee of the Town of Markham and through the Browns Corners United Church he was a passionate advocate for the development of affordable housing.
Harvey Brown has received may honours and awards including the Bicenntenial Certificate of Merit and an Agricultural Service Diploma from the Ontario Association of Agricultural Societies. He has been inducted into the Canadian Agricultural Hall of Fame.