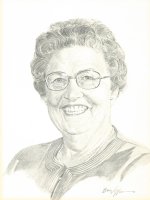 Helen Mae McKercher
(1911 - 1985)
Inducted in 1988
Origin: Huron County
Nominated by: Home Economics Branch Staff, Ontario Ministry of Agriculture and Food
Specialty: Aquaculture, Organizations
---
Helen Mae McKercher, a native of Huron County, made an outstanding contribution to the improvement of the quality of rural life in Ontario. Her academic endeavours in the area of foods and nutrition led her to an active career with the Canadian Department of Fisheries and later with the Ontario Department of Agriculture. She graduated from Macdonald Institute, Guelph, in 1930 and subsequently received a M.Sc. in Extension Education. In 1956, she was appointed Director of the Home Economics Branch and held that position for a twenty-year period. She provided leadership to individuals and rural organizations, encouraging high levels of achievement.
Helen McKercher maintained a commitment to education through her work with the Department, the Federated Women's Institutes of Ontario and Canada, and the Macdonald Institute.
Recognizing the need to commemorate the role Ontario played in the founding of the Women's Institute movement, she was instrumental in the dedication of the Erland Lee and Adelaide Hoodless homesteads as internationally significant sites.