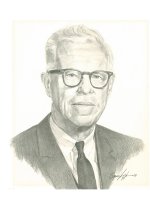 Herbert E. Harris
(1906 - 1982)
Inducted in 1984
Origin: Niagara Region
Nominated by: Ontario Federation of Agriculture
Specialty: Agri-business, Legal
---
"Edge" Harris made a unique contribution to Ontario agriculture. As a lawyer from St. Catharines, Ontario, he made his mark by drafting and defending Ontario's farm marketing legislation.
When farmers felt their returns at the market place were inequitable, they turned to Edge Harris, who calmly and articulately became a champion of marketing boards. Over a period of 25 years he was recognized as an expert in his field. He drafted many of Ontario's farm marketing plans and eventually acted on behalf of twenty marketing boards.
His first court cases in the 1950's involved his defence of the Ontario Fresh Peach Growers' Marketing Board. In 1977 he went before the Supreme Court of Canada to successfully defend the legislation establishing the Ontario Egg Producers Marketing Board. His prime argument in all court cases was for an equitable economic order where producers and consumers would both benefit.