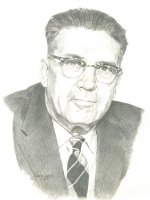 Herbert H. Hannam
(1898 - 1963)
Inducted in 1980
Origin: Grey County
Nominated by: Ontario Federation of Agriculture
Specialty: Livestock, Media, Organizations
---
Herb Hannam left a farm home in Grey County to teach school and to finance his education at the Ontario Agricultural College, graduating in 1926. He became livestock editor of the Canadian Countryman and in 1928 editorial secretary for the United Farmers of Ontario. He later served as its secretary. Moving on to become secretary of the United Farmers Co-operative Company, he founded the Rural Co-operator and edited it for 7 years.
In 1935, he became the first president of the Ontario Federation of Agriculture and in 1939, the president of the Canadian Federation of Agriculture. He became its managing director in 1943. In 1949 he was elected president of the International Federation of Agricultural Producers.
Herbert Hannam was chairman of the national agricultural advisory committee, a member of the Canadian delegation to the Food and Agricultural Organization and chairman of the board, National Farm Radio Forum.
In 1946 Mr. Hannam's efforts were recognized by a CBE and St. Francis Xavier University awarded him an honourary LLD in 1949. Dr. Hannam was elected a Fellow of the Agricultural Institute of Canada in 1959.