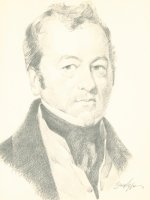 Hon. Adam Fergusson
(1782 - 1862)
Inducted in 1992
Origin: Hamilton-Wentworth Region
Nominated by: Hamilton-Wentworth Federation of Agriculture
Specialty: Education, Livestock - Sheep, Livestock - Beef, Livestock - Swine
---
Truly one of the unsung heroes of Canadian history, it is the agricultural accomplishments of Adam Fergusson that made him a national figure. Building on education and experience obtained in his native Scotland, he laid the foundations for much of the organization and practical aspects of agriculture as we know it today in Ontario.
Adam Fergusson emigrated to Upper Canada in 1833 and upon his arrival bought a tract of 7,000 acres in Nichol Township. He founded the Town of Fergus, but settled himself on a farm in Flamborough. In 1835, he imported purebred Durham cattle and went on to establish the first registered Shorthorns in Canada. Mr. Fergusson later imported Berkshire hogs and Leicester sheep continuing his work towards improving livestock using his farm "Woodhill" as a model for Ontario farmers.
In 1842, he was named to the Legislative Council in Ontario and used his influence there to gain support for the establishment of an agricultural organization in the province. A promoter of local Agricultural Societies, he was elected President of the first Provincial Exhibition held in Toronto in 1846. In 1852, the Board of Agriculture was officially created and Adam Fergusson was named Chairman.
Adam Fergusson was an advocate and educator. As a Senator of the University of Toronto, he was influential in establishing a Chair of Agriculture and pressed for a School of Veterinary Science. It has been said of Adam Fergusson that he did more than any other man to promote the study of scientific agriculture and to raise the standards of livestock in this province.