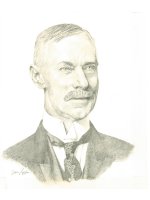 Hon. Samuel Nelson Monteith
(1862 - 1949)
Inducted in 2000
Origin: Perth County
Nominated by: Verna Harriotte Willows
Specialty: Finance, Forestry, Government, Politics
---
Samuel Nelson Monteith, a Perth County graduate from London's Commercial College in 1882 and the Ontario Agricultural College, Guelph in 1890, he served as Minister of Agriculture in Sir James Whitney's cabinet from 1905 to 1908. During this time the first county Agricultural Representatives were appointed in Ontario.
Nelson was instrumental in establishing the St. Williams tree Nursery in Norfolk County and the Monteith Farm for delinquent boys at the town of Monteith, a town that was named in his honour, in the Cochrane District of Northern Ontario. Under his jurisdiction, the grant program for reforestation and roadside tree plantings flourished. This was vitally important because many areas of the province had been denuded of trees to meet the insatiable demand for lumber used in building construction. In addition, cheese factory standards were improved, agricultural short courses were expanded, fruit farming was encouraged and the quality of livestock in the province was upgraded.
Mr. Monteith became a member of the North Perth Agricultural Society in 1878 and served for many years in various leadership roles including President. His political career spanned the years from 1891 to 1908 where he served on Downie Township Council, as Warden of Perth County Council, Perth County Commissioner and in the Ontario Legislature as the member for Perth South. The Monteith name dominated municipal, provincial and federal politics in Perth County for over 50 years.
For 41 years, Mr. Monteith served as Director of British Mortgage and Trust, the last 24 as President. In 1910, he and a partner established telephone service between the city of Stratford and the town of St. Mary's. His leadership, vision and dedication were instrumental in encouraging agricultural societies, mortgage and trust organizations and telephone companies to improve their service to rural Ontario.
Nelson Monteith's 86 years were crowned with esteem and were an inspiration to family, friends and associates. He died where he loved to be, in his orchard on his beloved Sunnyside Farm south of Stratford.