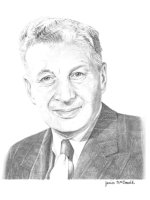 Honourable Fletcher S. Thomas
(1897 - 1957)
Inducted in 2015
Origin: Elgin County
Nominated by: The Honourable Stephen Peters
Specialty: Conservation, Crops - Fruit, Organizations, Politics
---
The Hon. Fletcher Thomas, affectionately known as Tommy, was involved in agriculture as an Agricultural Representative (Ag Rep) in the counties of Grey, Thunder Bay and Elgin; as a farmer; as an organizer; as an environmentalist and as a Minister of Agriculture.
During his time as an Ag Rep from 1922-45, he founded the Elgin Fruit Growers Co-op which built a modern cold storage plant for local orchardists. Then in 1940, Mr. Thomas led the organization of Elgin Co-operative Services which by 1957 had a business turnover of $5 million per year and 1500 members. That same year, he brought the International Plowing Match to Elgin County and it was the first to feature county exhibits and livestock displays. Tommy was known in the farm community for his forward thinking, setting up Record of Performance (ROP) testing of dairy herds, large scale planting of soybeans, orchard and weed spray services, corn and livestock clubs. He was an early advocate for the environment, developing a county soil survey map, which set soil and water conservation standards still in use today. He also managed the farm at the Ontario Psychiatric Hospital in St. Thomas, using it as a base to test crop rotations and new types of equipment, as well as to conduct research projects for both the Ontario Agricultural College (OAC) and the Department of Agriculture.
In 1950 he was appointed the Chair of the Ontario Government's Select Committee on Soil Conservation and Land Use. Under his direction, the Committee presented a report to the Ontario Legislature on conservation and land use which was regarded as the most comprehensive work of its kind in Canada at that time. Partly as a result of this work, the water resources of Ontario came under closer scrutiny. Then in 1955, the Ontario Water Resources Commission was formed, followed by all of the Ontario Conservation Authorities.
As a farmer, Fletcher Thomas grew both apple trees and tobacco and during that time he developed control measures for tobacco blight and corn borer, and studied the impact of soil trace elements on fruit trees. From 1967-2000, three of his children took over management of the farming operation, known as Great Lakes Farms, adding more apple trees, strawberries, raspberries and retail sales.
Mr. Thomas ran for the Progressive Conservative Party and won in the elections of 1945, 48, 51 and 55 and became the Minister of Agriculture from 1953-56 under Premier Leslie Frost. During his tenure, he led the first co-operative marketing programs for fruit and tobacco growers. He was instrumental in organizing the Ontario Flue-Cured Tobacco Marketing Board, and ultimately he went all the way to the Supreme Court of Canada to clarify the status of Ontario's agricultural marketing legislation.
The Hon. Fletcher "Tommy" Thomas has had a major impact on agriculture in Ontario and is an excellent addition to the Ontario Agricultural Hall of Fame.